Prince introduced the S40 Gloria in 1962 and it was a much larger car than the previous cars that Prince released. It cannot be classified as a compact car anymore under Japanese vehicle classification regulations because of the engine exceeding two litres. This car was no longer based on the Skyline sedan and was also the first six cylinder car that Prince made. Tomica released the Prince Gloria S40's in January 2004 and the Prince Gloria Fire Chief in February 2004. There is also a Prince Gloria Fire Chief car that was released in February 2004 that was part of the Toys Club three car set. (The other two cars are the Toyopet Crown Police and the Nissan Cedric Taxi).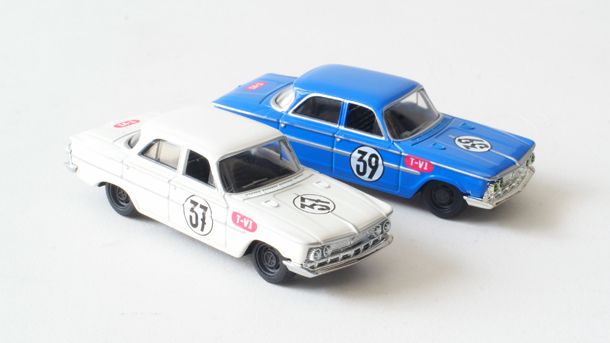 Racing Glorias
In 1964, the Prince Gloria Super 6 entered in the Japanese GP T-VI class race (1601 to 2000cc) and managed to secure both 1st and 2nd place. The pole position record was also made by a Prince Gloria at 2 min 56.4 sec. (Toru Ikusawa). When the Gloria's Super 6 engine was installed in a Prince Skyline, it won the second T-IV class race.
I had a hard time getting this rare boxed set that Tomica released way back in 2004. The cars on this boxed set are made well. The tampos are all printed well and the wheels look great. However, I think, being an old release, it is not up to par with the Tomica Limited Vintage cars that were released recently. Still, this boxed set has already been out of production and it would be a fantastic addition for Nissan and Prince model car fans.